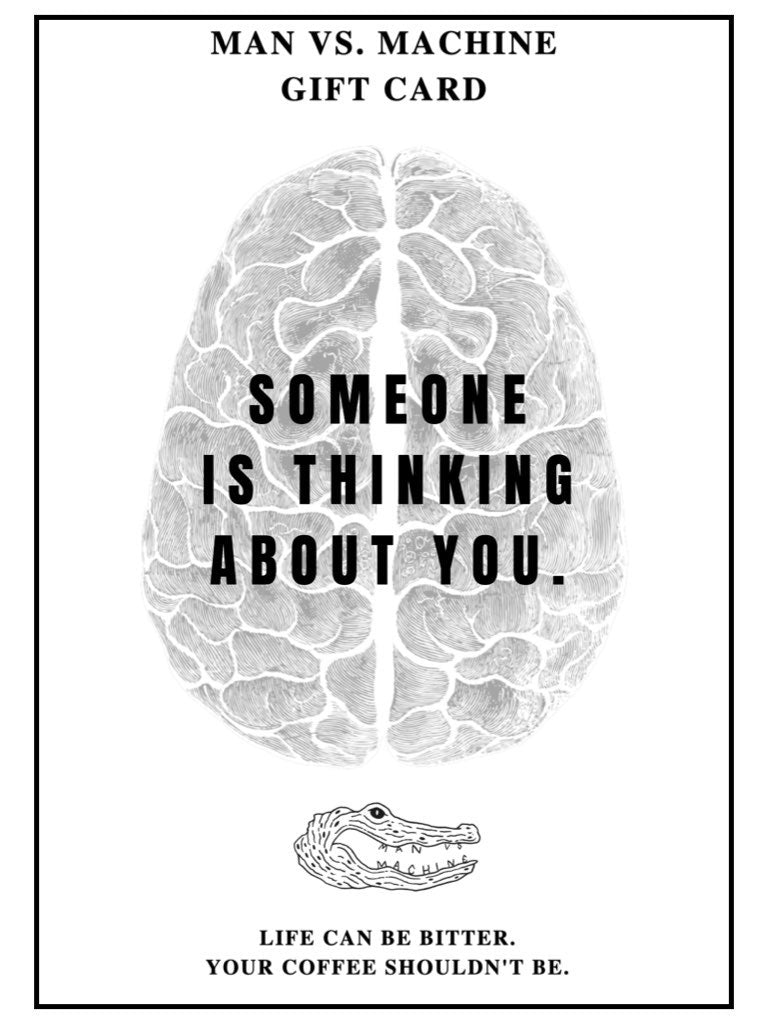 MAN VS. MACHINE GIFT CARD
Share some coffee with the ones you love.
Even if you can't be together, you can still think of one another.

And even if you can't visit our shop together, you can though. Digitally.
Please show the ones you miss how you miss them. With something they might miss.
Like great Coffee. Or people. Or even the smallest interactions.
Let them know: "Hey, how are you. This one is for you. And it's on me."
On our website you can read:
We believe in the human element. In Roasting. In Brewing. In Life.

We truly do. So this one is for all those of you, who share that belief with us.
To put in the words of one of the Greatest ever: Biggie Smalls:
"Spread Love, it's the Brooklyn way."
Unsere Gift Cards werden per email verschickt.
Unsere Gift Cards erklären selbst wie man sie einfach einlöst.
Unsere Gift Cards haben keinerlei zusätzliche Kosten/ Gebühren.
Unsere Gift Cards können nur im Online Shop eingelöst werden. Sie sind nicht in unseren Cafés einlösbar. 

Our gift cards are delivered by email.
Our gift cards contain instructions to redeem them at checkout.
Our gift cards have no additional processing fees.
Our gift cards can only be redeemed in the online shop. They can not be redeemed in the Cafés.